Apple Music was upgraded in a big, big way in 2021. The music streaming service now includes support for CD-quality and hi-res lossless audio, offering subscribers much higher quality at no extra cost. The service also introduced Dolby Atmos-powered Spatial Audio for immersive audio playback and, if you've got certain AirPods or Beats buds and a recent iPhone or iPad, you can get Apple's top-tier spatial audio with dynamic head-tracking. 
While Apple Music's monthly subscription has increased by £1/$1/AU$1 since 2022, Apple's lossless and Spatial Audio offerings are available to Apple Music users at no extra cost. Apple describes the additions as Apple Music's "biggest advancement ever in sound quality" – and we'd have to agree. "Excellent news. Well done, Apple!" we thought upon hearing the news. 
But here comes the (rather large) downside.
Apple's own headphones don't support lossless audio. None of them. That means even if you've spent £549 ($549, AU$899) on a pair of AirPods Max over-ear headphones, you can't listen to Apple Music in the highest quality. Miffed? We don't blame you. 
That's not the whole story, though. While the entire HomePod range of smart speakers has been updated to support both lossless and spatial audio, there are big gaps elsewhere in Apple's ecosystem, especially when it comes to hardware. AirPods Max aren't the only Apple device not able to take advantage of lossless audio, while – on the plus side – Spatial Audio support is much wider outside of iOS-toting products. Let's take a look at which devices can benefit from Apple's hi-res audio, which don't, and why…
What is Apple Music Lossless?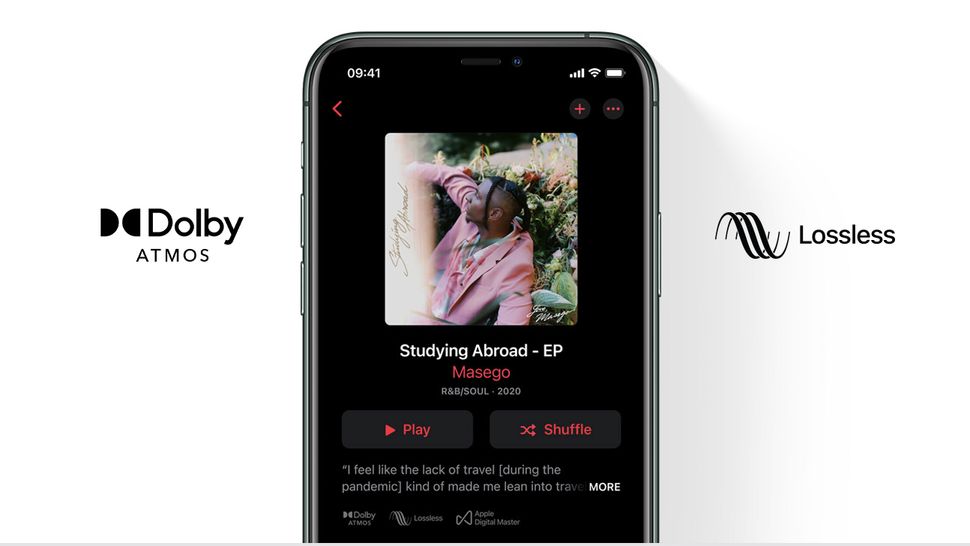 Essentially, it's Apple embracing hi-res audio. Apple's Lossless streams use ALAC (Apple Lossless Audio Codec) to offer more detail and information in a recording. 
Apple offers three tiers of higher resolution audio: CD quality (16-bit/44.1kHz), Apple Music Lossless (up to 24-bit/48kHz), and Hi-Res Lossless (up to 24-bit/192kHz). You can choose your quality through your iPhone's Settings > Music > Audio Quality section of Apple Music.
All of Apple Music's 100-million+ music catalogue is now available in CD quality or Apple Music Lossless. Over 20 million tracks were accessible in the highest quality Hi-Res Lossless format at launch in Summer 2021, and the streaming giant seems to have made good on its promise to bring the entire catalogue – in Lossless, at least – by the end of 2022. Apple Music Classical (a separate app for classical music that sits alongside your main Apple Music subscription) also features Lossless and Spatial Audio tracks.
Apple Music isn't the first service to offer lossless or hi-res streaming, of course. Tidal, Qobuz and Amazon Music HD all offer CD-quality and 24-bit hi-res listening, while Deezer offers a lossless tier. Spotify's long-awaited Spotify HiFi tier is still due to offer CD-quality streams, too, at some point… the streaming behemoth was unable to make good on its 'by the end of 2021' launch pledge and even after new, recent mutterings in 2023… it's still yet to surface. (We're now heading into 2024, guys).
What is Spatial Audio?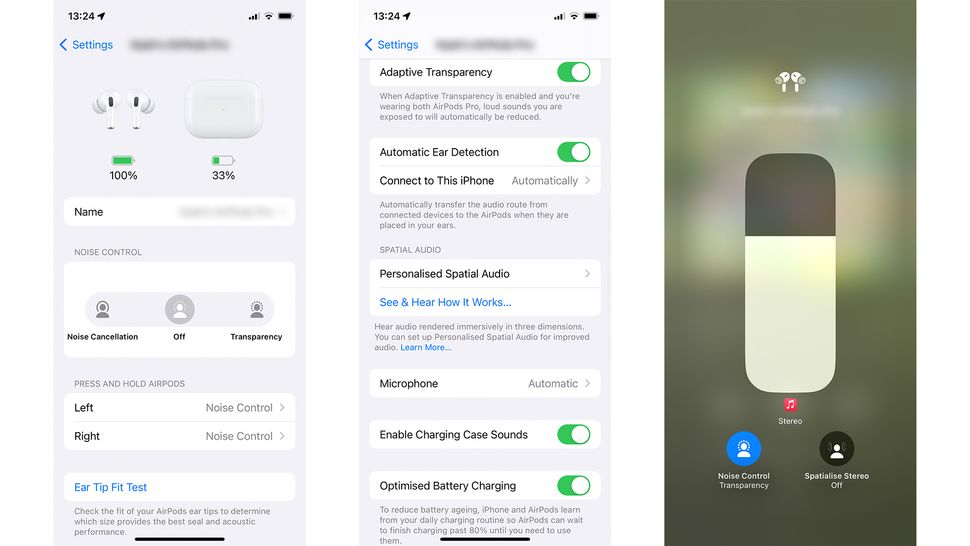 Another new addition to Apple Music is Spatial Audio, which is designed to provide "multidimensional sound and clarity" delivering surround sound and 3D audio via your headphones (and other devices).
Spatial Audio was initially launched as part of iOS 14 and iPadOS 14, and the newer Spatial Audio with Dolby Atmos feature for Apple Music arrived as part of the iOS 14.6 and iPadOS 14.6 updates in 2021.
This takes 5.1, 7.1 and Dolby Atmos signals (as well as stereo music) and applies directional audio filters, adjusting the frequencies that each ear hears so that sounds can be placed virtually anywhere in 3D space. With headphones, sounds will appear to be coming from in front of you, from the sides, the rear and even above. The idea is to recreate the immersive experience of a cinema.
But that's not all. Apple's spatial audio also offers dynamic head-tracking, which tracks your head movement using accelerometers and gyroscopes in specific AirPods and Beats models, in order to position the sound accurately. This means that even if you turn your head or reposition your device, the music will still be anchored to the screen. "Thousands" of Apple Music tracks were available in Spatial Audio with Dolby Atmos at launch, with more being added regularly.
There is also now a Personalised Spatial Audio off-shoot to this, which uses your iPhone's TrueDepth camera to capture video of your ears and head shape, thereby tailoring the effect of spatial audio with dynamic head-tracking to you. We've yet to try this – the capturing method is frustratingly more hit than miss – but we've heard reports that it makes a slight difference.
Which devices work with Apple Music Lossless?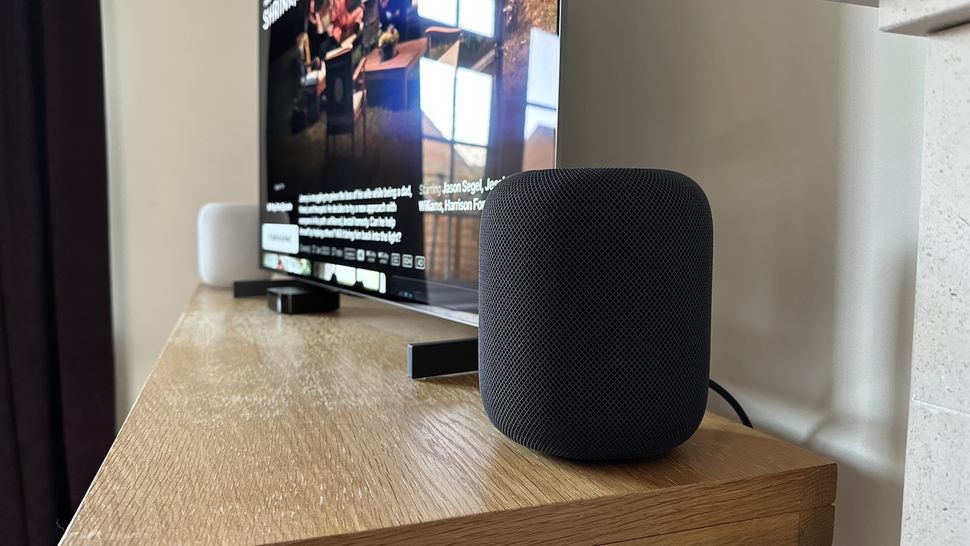 The big news is that no model of AirPods earbuds/headphones will support lossless audio. This means that even if you're buying the latest AirPods Pro 2 wireless earbuds or the premium AirPods Max, there's no way you can listen to your library of lossless Apple Music songs in any lossless or hi-res format.
In the case of the AirPods and AirPods Pro ranges, they're completely wireless and Apple only supports the lossy AAC (rather than ALAC) codec over Bluetooth. AAC might be a step up from MP3, but nowhere near the quality of lossless.
And considering Apple doesn't support the higher-quality aptX (and its many variants) or the LDAC codec (which offers the highest lossless data speeds), we're left wondering why Apple has left such an obvious disconnect between its software and hardware, and if there might – hopefully – be something else brewing in Cupertino HQ.
In better news, Apple's HomePod range of smart speakers do support lossless – that's the brand new HomePod 2 (launched in early 2023), the now-discontinued HomePod (2018) and still-very-much-current HomePod Mini. It's worth noting that they only support Lossless up to 24-bit/48kHz (not full Hi-Res Lossless).
Apple's iPhones (since the iPhone 7) natively support lossless – but again, only up to Apple Music Lossless, and not the highest quality Hi-Res Lossless (which delivers up to 24-bit/192kHz). But even here there's a caveat: iPhones are physically capable of playing up to 24-bit/48kHz only. If you want to listen to Apple Music tracks above 24-bit/48kHz on your iPhone, you'll need to connect an external DAC and use a wired pair of headphones (not wireless). Check out our guide for how to listen to hi-res audio on an iPhone for more information.
The same is true of the Apple TV and iPad families, which are listed as supporting Apple Lossless, but with no mention of Hi-Res Lossless.
Which devices support Spatial Audio?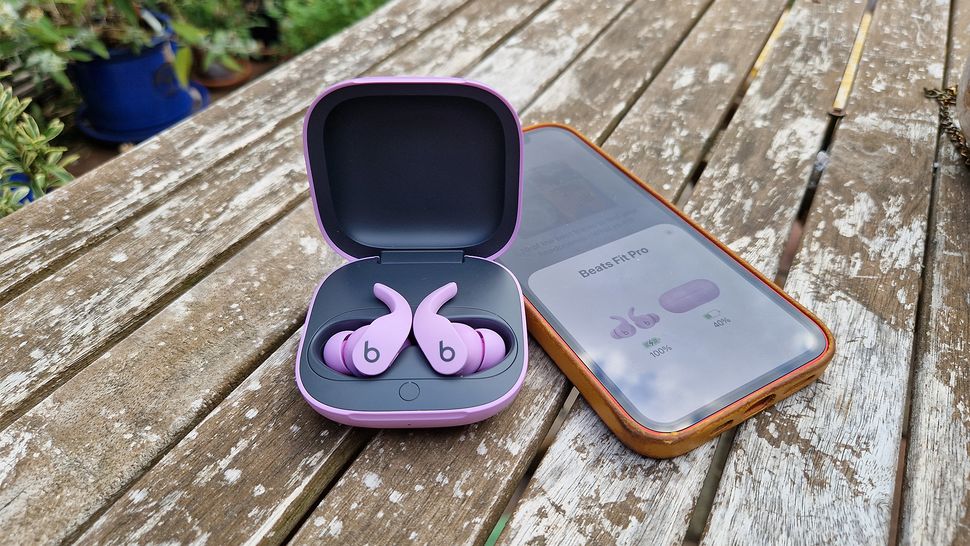 Apple devices are much better represented when it comes to Spatial Audio through Apple Music. 
In fact, the effect is available on all AirPods and Beats headphones with an H1 or W1 chip. That includes the AirPods (2019), AirPods 3 (2021), AirPods Pro (1st gen), AirPods Pro (2nd gen), AirPods Max, Beats Fit Pro, BeatsX, Beats Solo3 Wireless, Beats Studio3, Powerbeats3 Wireless, Beats Flex, Powerbeats Pro, and Beats Solo Pro.
Furthermore, the AirPods Max, AirPods Pro (1st gen), AirPods Pro 2 with the newer H2 chip, midrange AirPods 3 and Beats Fit Pro offer full support for Apple's Spatial Audio with Dolby Atmos technology – including dynamic head-tracking.
These same models also support the newer Personalised Spatial Audio feature using an iPhone (with iOS 16 and the TrueDepth camera).
You don't have to line Apple's pockets to hear the Dolby Atmos tracks, either. The 'regular' Spatial Audio also works on any headphones connected to an iPhone, iPad or Android device, provided said Android device is compatible with Dolby Atmos and as long as you enable Dolby Atmos manually.
To do so on your iOS device, head to Settings on your iPhone or iPad and then to Music to find the Dolby Atmos option. This will be set to Automatic by default, which means Dolby Atmos tracks will play correctly when you're listening via any W1- or H1/H2-enabled pair of Apple or Beats headphones, but not when you're using third-party headphones. However, if you switch this option to Always On, even non-Apple headphones will play back Dolby Atmos tracks in all their sonic glory.
Note that this only applies to Dolby Atmos Spatial Audio tracks on Apple Music, and not Spatial Audio content from other apps like TV. (Remember, Spatial Audio in the TV app is a slightly different beast in that it also utilises the sensors in Apple's own headphones to enable head-tracking.)
The new HomePod 2, original HomePod and HomePod Mini now also support Spatial Audio with Dolby Atmos, so you can fill your room with virtual 3D sound from a wireless speaker in solo and stereo mode. We said in our HomePod 2 review: "A stereo pair of HomePods is particularly beneficial with Dolby Atmos tracks, which sound even more open and three-dimensional, with very impressive spatial placement of voices and instruments."
Various models of iPhones and iPads support Spatial Audio with Dolby Atmos (see the full compatible iOS products list in our dedicated Apple Spatial Audio explainer), and playing from either the current Apple TV 4K or older Apple TV 4K (2021) into a Dolby Atmos soundbar or system will work, too.
What's next?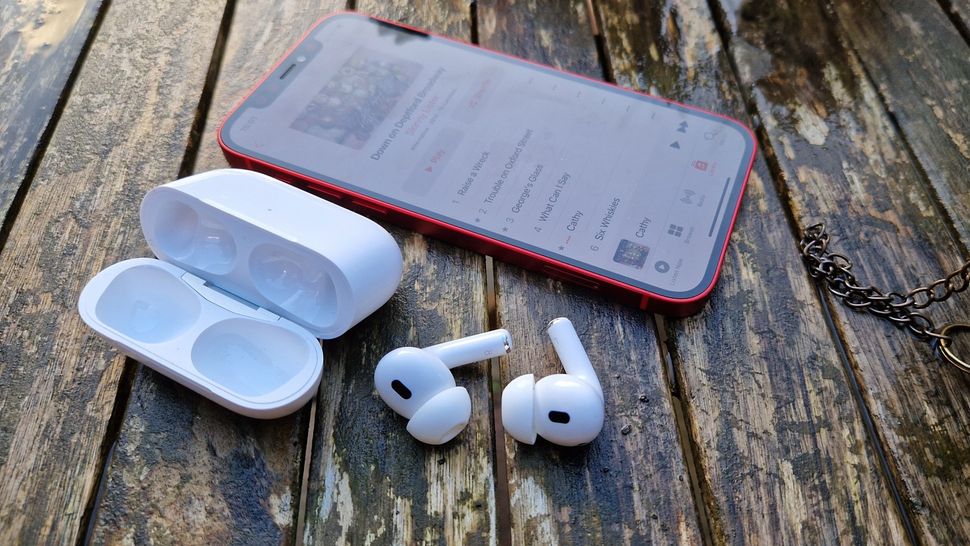 When we posed the question to Apple's AirPods acoustic team about not being able to listen to Apple Music Lossless quality using AirPods, we were told: "it is important to understand that we can still make big strides without changing the codec. And the codec choice we have there today, it's more about reliability. So it's about making something robust in all environments."
"We want to push the sound quality forward, and we can do that with a lot of other elements. We don't think that the codec currently is the limitation of audio quality on Bluetooth products."
It's an intriguing statement. Many brands (Samsung, Sony, Huawei) are making new strides with higher-quality codecs in their latest wireless earbuds, and we still think a higher-res codec (or similar) surely must be on the cards for Apple's headphones range in the future. In more recent news, Qualcomm has laid the foundations for hi-res wireless headphones to arrive in 2024 and beyond, with the next-gen S7 Pro Gen 1 chip set to introduce 'micro-power' wi-fi support in conjunction with Qualcomm's XPAN (Expanded Personal Area Network) technology, which could offer, when connected to a home's wireless network, genuine 'lossless' hi-res audio up to 192kHz – much higher than any Bluetooth codec currently available. 
Could Apple follow suit, or develop its own protocol here? There is some indication that Apple has thought more about wireless streaming and its audio quality: in the 2023-released AirPods Pro 2 with USB-C case, Apple has included what it calls a "groundbreaking wireless audio protocol" that "unlocks powerful 20-bit/48kHz Lossless Audio". Sounds exciting, right? The rather gigantic caveat is that this only works when the Pro 2 USB-C model is connected to the upcoming Apple Vision Pro headset. So there's still no way to listen to your Apple Music playlists in hi-res… on your iPhone… yet. Let's hope that this new wireless protocol could indicate a new future of better-quality, lossless music playback on more Apple products we can all own and enjoy.
MORE:
Read our AirPods Pro 2 review
Wi-fi and AI to pave the way for smarter, "hi-res" headphones – and sooner than you think
I spoke to Apple to find out the secret behind the AirPods Pro 2's audio success
Check out the best wireless headphones across all budgets