---
By Ted Panken   I  Feb. 8, 2022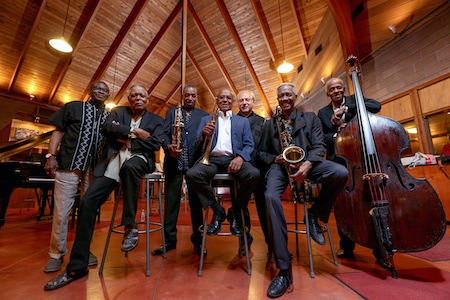 In July 2020, four months after COVID-19 locked down the world, The Cookers entered Van Gelder Studio to record Look Out! (Gearbox), its sixth album of original compositions created by members of the band. As on previous five, the collective septet uncorks rarefied levels of inflamed soul improvisation emblematic of the Cookers' brand. This is not hyperbole.
Each member of The Cookers is a model practitioner of the go-for-the-jugular, kinetic, swing-oriented esthetic that marked nearly all jazz-inflected Black American Music genres from the middle '60s through the latter '70s. Together, they boast some 500 cumulative years on the planet, playing music tempered by a master control that maneuvers the flame with a Michelin chef's finesse and discipline.
That's been the basis of operations for tenor saxophonist Billy Harper (b. 1943), trumpeters Eddie Henderson (b. 1940) and David Weiss (b. 1964), pianist George Cables (b. 1944), bassist Cecil McBee (b. 1935) and NEA Jazz Master drummer Billy Hart (b. 1940) since Weiss convened The Cookers in the early '00s. Alto saxophonist Donald Harrison (b. 1960), also an NEA Jazz Master, joined the group in 2013. But it wasn't so simple for veteran, steadily working practitioners to pick up where they left off after protracted isolation.
On Feb. 28, 2020, two weeks before the coronavirus lockdown began, The Cookers had finished a short Western tour — in California from Los Angeles to San Diego to Half Moon Bay to Oakland, then over to Orem, Utah. Directly thereafter, Weiss recalled, he returned to Los Angeles to mix the Lee Morgan The Complete Live At The Lighthouse box set on Blue Note, while Hart, then 79, flew directly to Europe for a characteristically jam-packed itinerary of freelance gigs. Cables, then 75, flew to Germany for a two-week Euro run with Jeremy Pelt and Ray Drummond. And Henderson went to England — where DJ connoisseurs have long favored his 1970s disco/funk date Sunburst — for an 80th birthday celebration at London's Pizza Express.
"We were going to reconvene in two weeks in Europe, and George, who was in Paris, and Eddie were going to meet us at our first stop," said Weiss, The Cookers' music director and primary arranger since its inception. "Instead, they were stranded there because of the travel ban proclamation, which forgot to say, 'Except for U.S. citizens.' That was on a Wednesday. We were supposed to leave for the tour on Friday. I spent Wednesday night into Thursday desperately trying to change flights so they could come back home. They got into those crammed last flights on Friday."
While everyone got back physically unscathed, the psychological toll was another story. "Some guys were losing their minds because they had never stopped [gigging] before," Weiss said. "Most of them have a workmanlike attitude — they do what they do, on an extremely high level, without giving a ton of thought to career trajectory, say, or how to promote something. Just play. The pandemic stopped that. Suddenly everybody was home. At the beginning, we all were talking with each other individually. That generation is a family, a close-knit community where everyone checks in on everyone to make sure they're OK.
"After a while, some guys figured, 'This is that dream where I get to sit home, work on my craft and compose — do all the things I haven't been able to because I'm so busy.' The question is whether you can make that transition. At a certain age, it's about maintenance, always staying physically — and mentally — at the top of your game to do the gigs you have to do. And then you don't have the gigs. At that age, you might not be thinking, 'Here's my chance to finally get to that next level.' I can't say I verbalized this or got it clear in my head, but something told me that it was imperative to get these guys playing again, to get back to doing what they do best. Inactivity is detrimental."
On The Cookers' itinerary for that aborted March 2020 tour was a prospective live recording for Gearbox at London's Church of Sound, a promotional organization that's presented "songbook" homages to such cookin' '50s, '60s and '70s jazz heroes as Art Blakey, Bobby Hutcherson, Idris Muhammad and Leon Thomas at St. James the Great Church in the quickly gentrifying area of East London. That opportunity vanished with the pandemic. But by mid-June, Weiss said, "Things were starting to open up. The numbers were down. The guys were antsy — and we were trying to figure out how to do stuff." He sussed out the interest of his bandmates in an alternate plan, one involving several days of rehearsal at the Falcon, a popular club in New York's Hudson Valley, and then a self-produced session at Van Gelder, a capacious space where the protagonists could maintain reasonable levels of social distance.
"The point was to leave and find a quiet place, where you can just drive door-to-door — not stop anywhere, get in an elevator or a train or whatever," Weiss said. "We spent a few days running through the music, a lot of which we'd been playing for a year or two, and then we did the record in two days. Everybody was pretty impassioned, and it was intense. Everybody seemed to get everything back pretty quickly. Over the years, it gets tighter and tighter — though being a perfectly clean, polished thing isn't really what '70s guys were ever about."
Upon the release of Look Out! last September, a journalist from a mainstream publication called Weiss with a request to talk to McBee about his memories of the concerts that generated the posthumous issues of Alice Coltrane's Africa: Live At The Carnegie Hall 1971, and Roy Brooks' firebreathing Understanding, from 1969.
"It's always about the history," Weiss said. "Everybody wants to talk about that record they were on in 1969, and not about what they're doing now. The Alice Coltrane and Roy Brooks things are great. But how do you explain that a living embodiment of this is happening right now? We're kind of between a rock and a hard place. We're doing this unique thing that nobody else really is doing. But whatever the jazz industry is now, we are not embraced by that. We're pigeonholed as playing old music. We're not like the new, hippest young thing — which of course is not hip or young at all. How do I make it possible for these guys to work within that realm?"
Of course, any talented, responsible Gen-X, Millennial or Gen-Z journalist assigned to write about the latest hot item unearthed from the good old days would want the first-hand testimony of eminent pre-Boomers who spent their formative years participating and collaborating in music that still shapes the sound and esthetic of hardcore jazz. Donald Harrison feels a similar pull.
"I think of them as post-Coltrane, post-Miles Davis, post-free jazz," said Harrison — a Mardi Gras Indian Big Chief, who is himself an alumnus of the drum schools of Art Blakey and Roy Haynes, and a frequent participant in Eddie Henderson's recent projects. "They're connected to part of the music that I'm not, because I wasn't there to feel the nuance of what was going on. I always want to experience playing with the people who are masters and can really execute the sound of an era. But I also feel they're still exploring and taking the music to new heights."
The web of relationships within The Cookers is complex and consequential. Four members (Cables, Harper, Henderson and Harrison) played with Art Blakey and the Jazz Messengers. Cables — who contributes three characteristically distinctively percolating melodic gems to Look Out! from his 2016 date The George Cables Songbook (High Note) — provided relentless-yet-subtle comping, acoustic and plugged-in, to the working bands of Max Roach, Joe Henderson, Woody Shaw, Freddie Hubbard, Sonny Rollins, Roy Haynes and Bobby Hutcherson. His 30-plus leader albums include three trios propelled by Hart, one of which — Night And Day (DIW, 1991) — featured McBee on bass.
Cables also played keyboards on Henderson's 1977 disco date Comin' Through on Capitol, and forceful acoustic piano on Harper's breakthrough 1973 Strata East LP Capra Black, which established Harper's leader bona fides to go along with sideman credits that included Blakey, Lee Morgan, McCoy Tyner, Randy Weston, Gil Evans and the Thad Jones-Mel Lewis Orchestra.
Henderson plays trumpet on Harper's cusp-of-the-'90s albums for Steeplechase that introduced "Destiny Is Yours" and "Somalia." Both tunes are given four-horn treatments by The Cookers on Look Out! He and Hart — friends since their mid-'60s college days in Washington, D.C. — were bandmates in Herbie Hancock's Mwandishi during the early '70s.
McBee, The Cookers' elder statesman, contributes a new composition to Look Out! called "Cat's Out Of The Bag," which he describes as "an extended blues with a group of suspended chords that prompts you to realize other things before you return where you started." He also offered an older classic, "Mutima," which means "from the heart" in Swahili, and was the title track of his 1975 debut as a leader on Strata-East. McBee most recently synchronized alongside Hart in the Saxophone Summit band; he characterizes their interaction as "very much akin to what I like to do on a stage."
"I concentrate seriously on keeping the beat — making sure that the quarter note is in the right place upon entering the measure and upon leaving the measure," McBee said. "This gives great liberty to any drummer I'm playing with to concentrate on the horns up-front, accenting and providing energy to support them. The pianist provides the color — he's at liberty to just float across."
On the bandstand, McBee added, "I let naturally transpire whatever responsibilities pertain from doing the tune — which in this group are quite varied. Nothing is the same. George Cables, myself and Billy Harper — and Billy Hart on other records — have dynamically opposed concepts. I just play myself. If things are unpredictable, that excites me, because then I have a chance of learning something else. That's one thing this group offers. I'm constantly picking up things that broaden my capabilities."
Harrison gave concrete examples of how the his Cookers experience expands his own knowledge. First he mentioned a McBee piece, title unremembered, "that had all the elements of the blues, but with a lot of different moves inside it that I had to decipher — I could play just the straight blues, or I could play in the stratosphere. His approach to line is in its own hemisphere, so to speak. All of them share this. All of them orchestrate on a high level. There's a lot of specific moving parts, but still a lot of freedom."
He turned his attention to the qualities of his other bandmates. "Eddie can play the hardest music effortlessly; things people are afraid of he plays like it's nothing," Harrison said. "And he's played so many different types of music — straightahead and the funky fusion side. I call him '411' because he has so much information. He shows me ideas from all the people he played with, and he gives me great homework. All of it turns on another light switch to a room filled with so many other great ideas.
"George Cables has a myriad of influences in his sound, as they all do. He understands from a pianist's view how to manipulate harmony, with different colors going in and out. He has a tremendous understanding of Latin influence; there's soulful stuff inside his compositions, like the icing on the cake.
"Billy Harper's music is very blues-inflected, and we still hear the influence of his time with all the great bands he was in. A song like 'Capra Black' has a section that, for me, feels like floating in space. The way he moves harmony around is genius — it moves things around in a way you're not taught in school — it's genius. He turns the rules that I was taught inside out.
"Billy Hart's compositions have an advanced rhythmic presentation that he can play with the greatest of ease. They find new spaces, but still feel connected and logical. He's like Art Blakey in that he'll hear something and immediately have an idea that only Billy Hart could come up with for the song. When we're playing live, he'll change at the drop of a dime and do something else — he's always reimagining different ways to look at compositions. His ideas are relentless. He has such an immense understanding of what the tradition is that it's scary. He's heard everything. But he's changed all of those ideas to create a new style of music, a new style of playing, a new way of doing things."
In separate conversations over the years, all members have credited The Cookers' signature sound to Weiss' four-horn voicings of songs not composed by Harper, each a master class example of what Benny Golson has called "dearth writing."
"The lush arranging brings out the beauty in their music, plus, when it's time to make an impact, the horns really hit you in the face," Weiss said. "The four horns also retain the loose, flexible rhythm section, without locking it into just hits to enhance the horns like a big band."
"David's orchestrations and arrangements make the group sound like a bigger ensemble than it is," Harrison said. "He gets to the essence of each song. He loves and understands the music from the era these guys came from, and he understands each one of us. all the musicians in the band. He chooses the songs we play every night, and knows how to put them into a format where they make sense for the musicians and the audience. The music has what I call a good rub, a natural feeling, like the wind blowing on a warm day."
Weiss expects the attribute that Harrison describes to blossom anew now that The Cookers, all fully vaccinated, are touring again. He's looking for an opportunity to document what they do onstage.
"Hopefully, like the best of bands, we've developed something live that doesn't get exactly captured in a studio," Weiss said. "A number of tunes in our book take on a life of their own after we've played them live, so it's almost as if we have to record them again because the recordings from 10 years ago don't do them justice. Recordings are great, but part of the beauty of this band, The Cookers, is what happens when you we play together all the time. The music takes on a life of its own.
"Jazz has to move forward. Everybody's got to be daring and try something new. And that's the stuff that gets attention, because it's the next new thing. Yet the late-'60s Blue Note recordings, Miles Davis' and John Coltrane's recordings, or Art Blakey's recordings have a certain sound that attracted most people to this music. That stuff is alive. It was in-your-face and pretty intense. You can connect to it emotionally. These guys came up in that era playing that music. They've refined it and improved it over the years. We've been playing to large audiences. We want to play challenging music, and push ourselves all the time — and we want to connect with everybody." DB
---
Kenny Garrett's Sounds From The Ancestors is among DownBeat's latest crop of 5-star reviews.

Wayne Shorter and Don Was discuss uncovered Art Blakey music on First Flight To Tokyo: The Lost 1961 Recordings.

Joey DeFrancesco has added the tenor saxophone to the growing list of instruments he performs on.

"For me, Roy Hargrove was one of the most dedicated stewards of this music, the Black American tradition," said trumpeter Theo Croker, who considered Hargrove a mentor.

Don Byron pulls no punches while taking the "Test."