As a teenager in Leeds in the 1980s, the centre of my universe was Jumbo Records. I bought all my New Order and Smiths singles there. The tiny unit in the Merrion Centre shopping precinct even hosted one of my earliest conversations with a pop star, when Billy Bragg played an in-store gig with loudspeakers on his shoulders. My week was geared around listening to John Peel, reading NME, watching Top of the Pops and heading to Jumbo on a Saturday to pick up the latest vinyl treasure.
"Saturday was like Record Store Day is now, but every week," remembers Choque Hosein, who worked in Jumbo then. "People queued up for us to open and then they'd be four deep at the counter. One of the most memorable moments was when Blue Monday came out. We were just handing them over the counter in Jumbo bags, one after another. It was the same when Frankie Goes to Hollywood released Relax."
Today's Jumbo – which sells everything from rock and pop to dub, electronica and Americana – has a much bigger space in the Merrion than it did back then, but vinyl, CDs and posters still occupy every inch of space. For the run-up to Record Store Day (RSD), I have come back to spend a couple of days working here – filing records, manning the till and talking to staff and customers – to find out what role record shops play now and why they're proving so resilient.
Despite challenges such as the convenience of Amazon and streaming and an often gloomy narrative around bricks-and-mortar shops, vinyl is selling more now than it has since 1990. There are 426 independent record stores in the UK compared with a record low of 293 in 2012. Eleven are in the Leeds area, although customers aren't often four deep at the counter. "It is different and you don't always get that vibe," says Jumbo's Nick Fraser, a genial, enthusiastic 59-year-old who owns the store with his wife Justinia Lewis. "But we've got Taylor Swift and Ed Sheeran selling masses of vinyl and we still get lots of kids coming in after school going: 'Have you got the new one by Arctic Monkeys?'"
My first shift is a Sunday and although I'm not run off my feet, I have a steady stream of customers. Briony Bacon, 38, explains why she has turned away from streaming. "At first, to have this insane library of music at my hands was amazing," she says. "But I found I never listened to whole albums. There's something beautiful about listening to something from beginning to end as it was written on vinyl. It's something I do with my husband. We've got an old 1950s radiogram that's got such a warm, beautiful sound. Putting a record on and having dinner is so much more of an experience than what Spotify tells me to like."
Bacon, who works for Channel 4, has come in for Metallica's new album and says that the band's 2000 decision to challenge early downloading site Napster in the courts has been vindicated. "At first it felt like filesharing was democratising music but it actually completely eroded the value for artists." Jumbo manager Cody Barton, 29, agrees, saying that customers like buying physical because it supports a favourite band.
Recent Jumbo customers have included Stewart Lee, Fontaines DC and players from Leeds United. In my first half hour, I talk to a range of people from the teenage girl buying Pixies' Doolittle on CD (classics, especially Fleetwood Mac and Nirvana, sell well among younger customers), an older chap seeking a Jah Wobble album and a policeman seeking witnesses to a traffic accident. Journalist Jacob Rosenblat, 65, inquires about some obscure Israeli records, of which the staff manage to source half. He is a record-shop veteran who has visited 2,000 record stores in 140 countries. He first came to Jumbo 20 years ago and explains why he prefers shops to Amazon: "I'm talking to you now. I can't talk to anyone on Amazon."
Barton says such personal connection is key to a record shop's success. "A lot of people come in because they see it as a place they can relax and be themselves, and have a conversation about music. It becomes a real social hub." Each customer is greeted like a friend – out of courtesy, but also good business sense. As Rosenblat puts it: "If they're not nice, I won't go back." The staff spend ages talking to customers about their preferences, sometimes gently suggesting alternative choices. "Obviously we know our stuff," says Barton, "but there's a fine line about how you can speak to people about that. You're trying to help them."
He is painfully familiar with the famous scene in High Fidelity where Jack Black plays a record store assistant as a sneering rock snob: "I can't believe you don't own this fucking record," he says, gesturing at the Jesus and Mary Chain's Psychocandy. "That's insane!" In my youth, some stores were like that: you would be terrified to approach the counter. "That's completely alien to what we stand for," says Fraser. "We welcome everybody. We want to be a place where you feel safe and at home because the city centre isn't full of those places any more." The Jumbo boss says he sees the shop as a "public service" and at one point tears out of the door after a customer to tell him that the record he was inquiring about is coming in this weekend.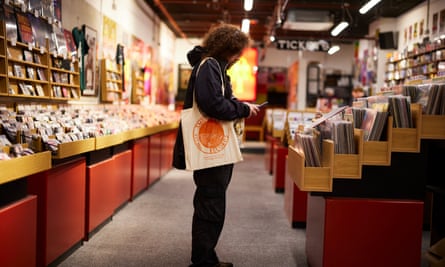 "There's two reasons why someone might want a record shop in 2023," he says. "Some might have seen the queues for RSD and think: 'I can have a piece of that.' But a lot of us are people with a bit of money at the end of their careers who do it because it's a passion."
Jumbo was started in 1971 (initially as a concession in a larger bargain record shop called Bostock's) by Hunter Smith, who had been selling reggae and soul singles from his Jumbo Mobile Disco. The former DJ and his wife Lornette co-owned and ran the shop for decades, switching premises three times before selling up in 2014. Fraser – who was the UK managing director of a US IT firm – had been a customer for years and loved the place. When he heard it had become available, he'd "had a glass of wine" and couldn't help himself. "It wasn't a business decision," he grins. "I had friends who played golf and who spent a lot of money on playing golf, but I don't do that. Friends told me I was a lunatic. They said: 'I've got algorithms on my phone that tell me what I like. Why do I need a record shop?' But others who still enjoyed physical music were utterly envious."
Although the 52-year-old Jumbo logo is known far and wide, Fraser hadn't quite anticipated what he was taking on: a business that employed nine (now 10) staff, needed new premises, had a very smelly carpet; an operation that "required a massive amount of detail but existed on bits of paper and Post-it notes".
In 2007, seven years before Fraser bought Jumbo, HMV had made the disastrous decision to stop selling records, which meant it missed the start of the vinyl revival. By the time Fraser came on the scene, Jumbo further benefited when the chain temporarily entered receivership, "which affected their ability to sell new releases", he explains. Although HMV now sells vinyl again and has returned to profitability, both these factors saw customers come to Jumbo at a crucial time.
Record Store Day was set up in 2007 to help independent shops. "It put rocket boosters under the vinyl revival and was a gamechanger," says Ian De-Whytell, who runs Crash Records, Leeds's other longstanding indie, which also houses crate-digging haven Wall of Sound in the basement. "People bought into the excitement about limited editions, artwork and special releases. It got lapsed record buyers interested again."
I can feel the excitement about RSD in Jumbo: there are racks of records and posters for the day's instore gig, headlined by rising Leeds indie foursome English Teacher. "On Saturday, people will be queueing up outside the shop," says Aidan Razzall, 29, Jumbo's thoughtful creative designer, who lays out the shop's magazine and does much of its social media. "Some will have been here overnight with camping chairs."
RSD has faced criticism for its highly priced limited editions and creating bottlenecks at vinyl production plants, hampering smaller releases, but Crash and Jumbo say that it's still vital.
Fraser frets about the rocketing price of vinyl in a cost-of-living crisis, with many new LPs costing £30. "You can joke about them being essential but really, buying a record is a discretion," he says. "It's more important to keep warm." Students are buying CDs again because they're cheaper.
"I don't want anyone to think we're skipping around while the city centre burns," he says, and admits the market remains challenging. During the pandemic, Fraser (with assistant manager Adam Gillison) kept Jumbo going by personally delivering records like a musical Father Christmas. "At one point I went to the wrong door and this old couple saw the Jumbo bag," he chuckles. "They said: 'Are you still going?' We get that a lot, but we ended up chatting, socially distanced, for half an hour."
Today's record shops often need other strings to their bow. Vinyl Whistle in nearby Headingley, set up by former Premier League referee Jon Moss, doubles as a cafe. In their leanest years, Jumbo and Crash were helped by selling gig tickets. "Jumbo sold thousands of tickets for things like Leeds festival," Fraser says. "But then Ticketmaster took over and their commissions meant we'd lose money on every ticket. So that was taken away."
They still sell tickets, but have upped the number of instore gigs, while Crash does "outstores": fans buy a bundle of an artist's new album plus entry to an exclusive local show. "Who wouldn't want to see Suede or Tom Jones at the [tiny] Brudenell?" asks De-Whytell, who explains that promoters, venues, bands and shops form a "Leeds musical family" who support each other, even when they're rivals. "If we don't stock a record, we'll send people to Jumbo and I'm sure they do the same".
Before my second shift, I wander across to HMV, now on the floor below Jumbo's old site in the St Johns Centre. It is massive and colourful but baffling: discounted Rolling Stones box sets displayed alongside posters, Star Wars action figures and Pokémon plushies. Fraser insists Jumbo must remain "recognisably a record shop".
Everyone mucks in at Jumbo but the staff have their musical specialities – for example, 26-year-old Jack Donnison is the "weird and esoteric" expert – and their own stories. Spike Elwell, 19, started with work experience aged 15. Razzall's father was a priest who didn't have pop records in the house until a parishioner died, leaving him "an incredible record collection, Kraftwerk 12-inches and all sorts". Martha Boyd, 26, does the shop's newsletter: she's the only woman staffer in while I'm here, but Jumbo has always been co-owned and co-staffed by women.
"Record retail is still a very male-dominated world," she says. "The collector's mentality is sometimes a very male thing, but there's me, Kelsey [Killick, 25, artwork/branding, books and magazines] and Sally [Canlin, accounts]. My dad shopped here and I was desperate for a job here since I was a teenager. I do a lot of writing and poetry so when I applied for the job it was really nice that they were interested in that side of my life."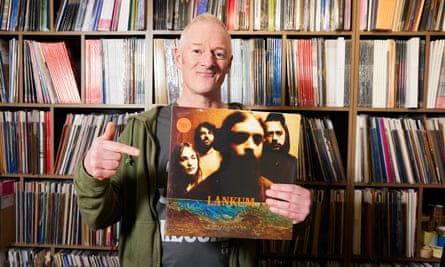 For many, working in a record shop can be a dream job and a life-changing experience where you meet lifelong friends and make connections. "I literally leapt for joy when they took me on," says Hosein, who became a Mercury-nominated musician [with Black Star Liner], producer and promoter after working in Jumbo and later Crash. "I was obsessive about music, but it was also a way to meet people who could further my career. I'd hand demos to the sales reps.'"
Some staff are also musicians or DJs, and the shop is still a magnet for touring artists and tour managers, but nobody I meet plans to leave what Razzall calls "the best job I've ever had". They've worked here for between three years and 34, they're friends and know regular customers personally. Council worker Peter Collinson, 34, came in as a 16-year-old indie kid for a Leeds festival ticket and has been returning ever since. "If you buy a record, it's yours for ever," he smiles, perched on a chair on the small purpose-built instore stage. "I got into music through my dad's records and now I'll sit with my son and he'll pick one of mine out." He makes a lovely point: "When we're no longer here, our children will have our records and know who we were."
It is closing time on Monday, and I find myself feeling sad to leave. I've loved it here and leave armed with recommendations from my co-workers. Earlier, Barton told me: "I've still got the records I started buying aged 14 and can tell you where I bought them all. I can't do that with Spotify." If record shops have a long-term future, it will be because of the special relationship between humans, our music and the places we obtain that from.
Fraser smiles. "When someone asks for a record, you hand it over knowing they'll go home and play it and it might even change their life. It's the best feeling in the world."