HAVANA — It's a bit chaotic in the band room of the Guillermo Tomas music school, on the outskirts of Havana, where scores of young players tune up their instruments, ready to learn some new music. Troy Andrews, aka Trombone Shorty, the busy New Orleans musician, is sitting on the front row to take in the performance.
"They say 'do you speak Spanish?' and I say I'm from the Treme, so I speak Tremish," he jokes.
Andrews, who grew up in the historic Treme neighborhood, is here for a cultural exchange between musicians from New Orleans and Cuba. It's sponsored in part by his Trombone Shorty Foundation, a program that nurtures budding young artists in his hometown. Eight of them are on this trip, spending the day at this conservatory learning alongside Cuban students. They'll also get to see concerts by famous Cuban musicians, including singer-songwriter Carlos Varela.
Andrews first came to Cuba as a young teenager, on a similar cultural exchange trip.
"It had a long-lasting effect on me in a beautiful way," he says. "I feel like New Orleans and Havana are like sisters and brothers." He says the style of music he discovered then has stayed with him ever since, as has the connection between the two cultures.
"We can see the food is very important here. The music is played in the streets, in the backyards and the clubs is the same thing," Andrews says. "Most importantly, the soul – the resilience of the people here is almost identical to what we experience in New Orleans. So that's why when I come here, I don't feel like I'm in a foreign place."
He's excited to see these young musicians pick up on that, and "understand that there's a connection to the rhythms that we play in the streets of New Orleans and the rhythms that's happening here," he says.
That plays out in a free-for-all binational jam session at the school led by Trombone Shorty and his band Orleans Avenue. Members of the New Orleans funk band Galactic, and the Cuban star Cimafunk and his band are also in the mix.
Discovering Shared Rhythms and Roots
What started as a New Orleans-style second line song morphed into something with a Latin flair.
"They played the right notes, they just accented in a different way," Andrews explains. No words were exchanged. "It was all music. There was just one note that made it feel very different, very salsa-like instead of second line."
The students are into it, leaning in with their trumpets and clarinets, each showing the other something.
"Just one day of me being here I've seen so much that I've never heard," says Yordi Santiago-Cortez, a clarinet player and high school senior from Kenner, La. "It opened me up for quite literally a whole other world of music." He's bonded with a Cuban clarinet player about his same age – Jorge.
"That man is going to stay in mind like, for as long as I play clarinet," says Santiago-Cortez. "He not only taught me things, I taught him some things."
The students were exchanging social media handles by the day's end, promising to stay in touch.
"You know how Troy said earlier about it being like his home musically? I feel the same way," Santiago-Cortez says.
John Rhodes, a 16-year-old drummer from Warren Easton High School in New Orleans, picked up on things that reminded him of home, like the architecture in the French Quarter and what he saw in Old Havana.
"The streets were bricks and also the little small balconies when you look up, it's just all similarities," Rhodes says. "They big on music too."
He says he got a rush at how easily their sounds meshed.
"The Latin groove and the Big Four brass band second line, it all coincides when it comes to us playing together," he says. "No matter where we come from, no matter what language you speak, no matter what race … music is a universal language."
These students share more than just a love for music, says Lilian Lombera Herrera, a cultural producer with Horns to Havana, one of the groups involved in this cultural exchange.
"All of that is part of our same ancestors," she says, referencing people of West-African descent captured and brought here during the Atlantic slave trade.
"Some of the Latin tinge about the flavor of the second lines and of the music comes from the Caribbean," Lombera Herrera, who is Cuban and now lives in New Orleans, says. "It was a big migration from Haiti that came through Cuba and continued to New Orleans."
Lombera Herrera says helping the students recognize that shared heritage was her goal. "It's something that you can't deny. You feel it even in how people interact, how people look at the eyes between each other."
Those Afro-Cuban roots are what Erik Alejandro Iglesias Rodríguez, who records as Cimafunk, is all about. The stage name is a nod to his heritage: Cimarrons were African captives who escaped slavery. For several years he's been spending time in New Orleans, collaborating with artists there including Tank and the Bangas, the Soul Rebels and now Trombone Shorty.
"You feel that kind of crazy vibe around us – it's the same in New Orleans," he says. "At the same time, all the problems and all the situations – the economic, social, everything, but you feel that the people keep the soul."
The economic situation in Cuba is dire, with shortages of food and fuel, and power blackouts. Record numbers of migrants are fleeing the Communist-controlled island. The crisis is a culmination of several things, including the pandemic, U.S. sanctions and a tight grip on the economy by a one-party government that hasn't followed through on promised economic reforms. Frustrations boiled up in street demonstrations last year that were met with a severe government crackdown after which nnew, harsher controls on freedom of expression were put in place. Some artists were jailed and others were forced into exile.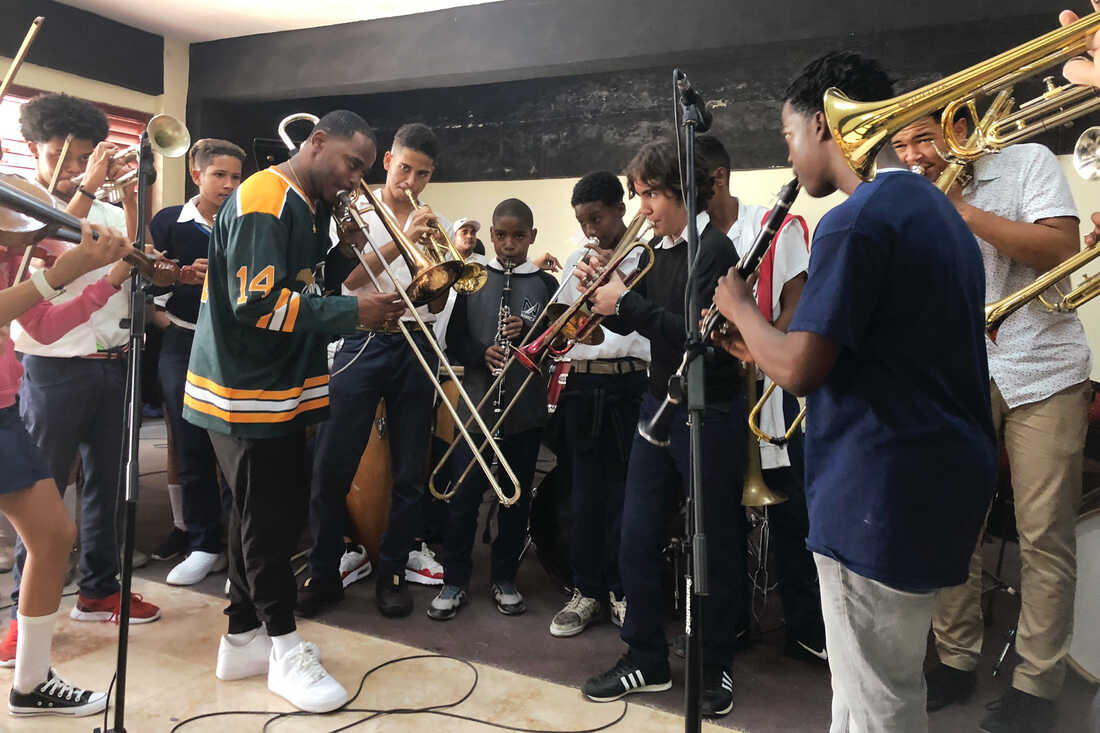 "This is wrong," Cimafunk says. "This is happening and keeps happening." But he doesn't think fleeing Cuba is the answer. He's hopeful that exchanges like this one can open up possibility.
Back at the Guillermo Tomas School, the students are working on songs that they will perform together as the opening act for a Trombone Shorty concert in Havana – one New Orleans classic, one Cuban.
The 14-year-old Juan Licor Doreste has a wide grin as he weaves around the other musicians, snapping his fingers with the beat – a seeming band leader in the making. "I play the trumpet," he says, explaining his enthusiasm. "This jam session with them, I mean, it's been amazing," he says.
He's one of several Cuban students to get new instruments from this contingent from the United States, which included tourists who paid to come see concerts put on by both Cuban and New Orleans bands. Licor Doreste dreams of someday having his own jazz band. He says he wants to be the next Wynton Marsalis.